This sweet little recipe originally came from the Queen of Butter & all things Southern, Ms. Paula Deen. I really wanted to make these to go with our Hawaiian Chicken & Rice supper, but I didn't have everything the recipe called for....but wait...when has that ever stopped me from tweaking and trying my own thing?! That's part of the fun of cooking and baking for me
I didn't have the all-purpose flour or baking powder the original recipe called for, and I detest tossing dough on a floured surface,then cutting it out with a biscuit cutter!! I decided to add some cinnamon because we all love it, and it's good for you, too! And finally, I used vanilla almond milk instead of regular milk. Here is the recipe I ended up with:
Sweet Potato Drop Biscuits
1 1/4 cups self rising flour
2 Tbsp sugar
pinch of sea salt
Several shakes of cinnamon
3/4 c baked, mashed sweet potato (2 small sweet potatoes worked out to 3/4 cup for me)
1/2 stick softened butter
2 Tbsp vanilla almond milk
Mix dry ingredients. In larger bowl, cream butter with mashed potatoes. Add dry ingredients, mix well. Add almond milk 1 Tbsp at a time, to thin a bit. Drop dough by large spoonfuls onto greased sheet. Brush tops with honey butter. Bake at 400 degrees for 15- 18 minutes. When done, brush with more honey butter. Makes about 16 small drop biscuits.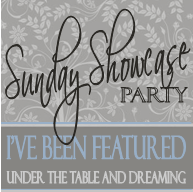 Thanks for featuring my take on Sweet Potato Biscuits, Stephanie Lynn!