With some gross preserved things, of course!
Here's what you will find in my Spooky Halloween Pantry:
Preserved Brittle Bones
Brains in Skulls
Pickled Finger Food
Here are the details for these super easy "treats"!
I saved jelly, mason & pasta jars with lids for these. I got a bag of bony skeleton hands, a bag of "severed" fingers, and a plastic skeleton at the dollar store. The fingers went in a jelly jar with water and several drops of red food color dye. The hands went in the pasta jar, and I cut up some of the longer bones from the skeleton and added them in. Then some water and lime green dye to finish it off. Finally, I found a bag of skulls at Michael's for $1.99 ~ they went in a large mason jar with water & teal food dye! (I need to get one more bag - these all float up to the top!)
Our dollar store is sold out of all of the things I bought there, but Michael's still has the severed fingers for $4.00 and the skulls. Next year, I'm hitting the dollar store EARLY for more!!
I made the labels on my computer, cut them with my scrapbooking scissors (deckle edge, I believe), and colored them a bit with David's pastels to add some interest. I had a funky, fall colored tie dye print fabric so that went on top. I'm not sure where they will end up in the house, but for now they are on my Ikea cube book shelf in the living room - but they look rather lost with all those cubes!!
Are you decorated for Halloween yet? What's your favorite decoration this year? I think this little grouping just may be my favorite!
I'm linking this craft up at:
Hookin up With HoH #20
and
Fun Follow Friday
and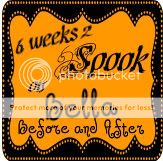 and
Toot Your Horn Tuesday